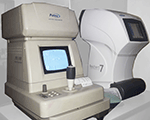 Computerized Auto Refraction by Potec (Korea) and Reichert 7 Auto Tonometer (Switzerland).

Reicharts Non-Contact Airpuff Tonometer, Canon non-contact Tonometer, Tonopen, Applanation Tonometer, Gonioscopy, Pachymeter (to measure central corneal thickness, Alcon USA),Visual Field Analysis by Humphrey (Zeiss USA) and Medmont (Australia).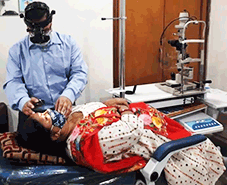 Indirect Opthalmoscopy, retina survey and Retinal Cryopexy for Retina breaks.

Ultra sound A scan Biometry to determine the power of IOL by OcuScan A (Alcon USA) and DGH 300B (USA).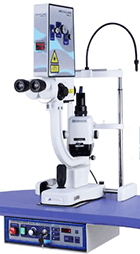 YAG Laser (Nd-Yag) delivers as low as 0.50 MJ per pulse which causes least trauma to other parts of eye.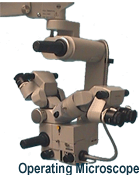 Carl Zeiss Operating Microscope (Germany) and Inami Operating Microscope (Japan) with video camera and monitor for the state of the art surgeries.
Phacoemulsifier – the Infinity Vision System (Alcon, USA) with Ozil Torsional Phacoemulsifier. Torsional ultra sound is a revolutionary new technology that produce a side to side motion of the phaco tip as opposed to the forward and backward of traditional phaco. This latest techonolgy in phaco surgery is safer than conventional linear phaco system, provides better corneal protection, and has more control over ultrasound, vacuum and flow settings leading to faster recovery. This is the most advances phaco surgery system in the world now.

Meticulous care is taken for sterilization. Alongwith traditional autocalve and hot air oven we have "Statim 2000" (USA) and the "High Speed steam sterilizer" – both are fully computerized fast sterilization systems to backup all surgical cases. We have also installed OT air sterilizer in our Nursing Home. It filters air through "hepafilters" and sterilizers air through twin tube UV germicidal lamp-ensuring 100% sterile atmosphere in the O.T.
Bio-Medical Waste from
01/01/2016 to 31/12/2016

| | | |
| --- | --- | --- |
| Category | Waste | Quality |
| Category No. 4 | 8 Kg | |
| Category No. 6 | 65 Kg | |
| Category No. 7 | 131 Kg | |